After 19 months of online-classes, students at X University are preparing to make a full return to in-person learning this winter. Students say they hope coming back to campus will help ease mental health issues brought on by COVID-19.
Over the course of the pandemic, there was an increase in university students suffering with mental health issues. In a survey conducted last spring by the Centre for Innovation in Campus Mental Health (CICMH), 70 per cent of post-secondary students reported feeling stressed, anxious, or isolated.
Director of the CICMH Marija Padjen said that social isolation and financial concerns contribute to worsening mental health in students.
"Learning online has definitely impacted my mental health," said third-year mathematics student Mateo Rodriguez. "School and anxiety have all been invited into my home, which is the one place you should be able to relax,"
Rodriguez said he's excited to return to campus and thinks that in-person learning will improve his mental health. "I'm hopeful," he said.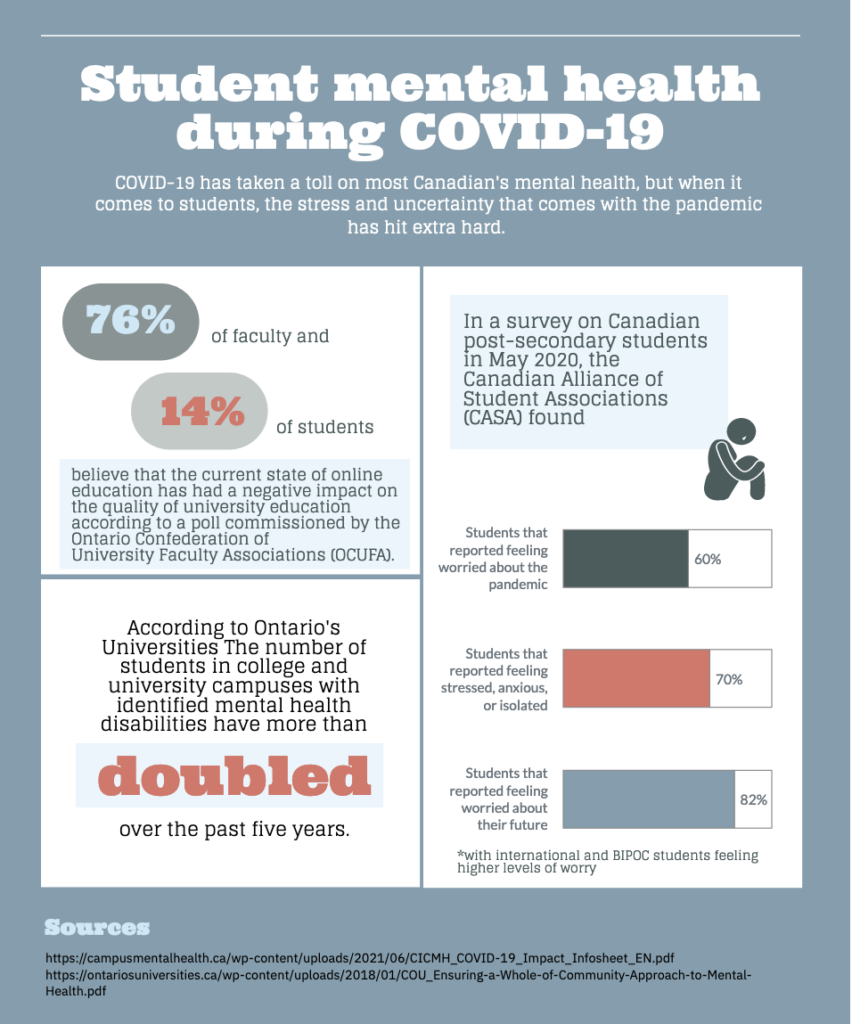 "We've been disconnected for so long, I've kind of gotten used to it at this point," she said.
Not all students are looking forward to coming back to campus, third-year journalism student Tina Makuto said she's feeling anxious about returning.
Makuto said she's worried about commuting costs and balancing her busy schedule.
Padjen said that there are many students who would prefer to learn from home. "It's the fear about returning that's also causing students stress," she said.
In response to growing mental health concerns, some faculty members are practicing a more lenient teaching style.
Journalism instructor Carly Lewis said she decreased the number of assignments in her classes and has given students more in-class time to complete course work.
Journalism program co-chair Gavin Adamson said he is encouraging his colleagues to adopt a similar approach to Lewis, even when in-person classes begin. "We have to recognize that the pandemic is still going on," he said.