Ken Pham, community organizer wants to bring live music back to Kensington
Story by Reema Najjar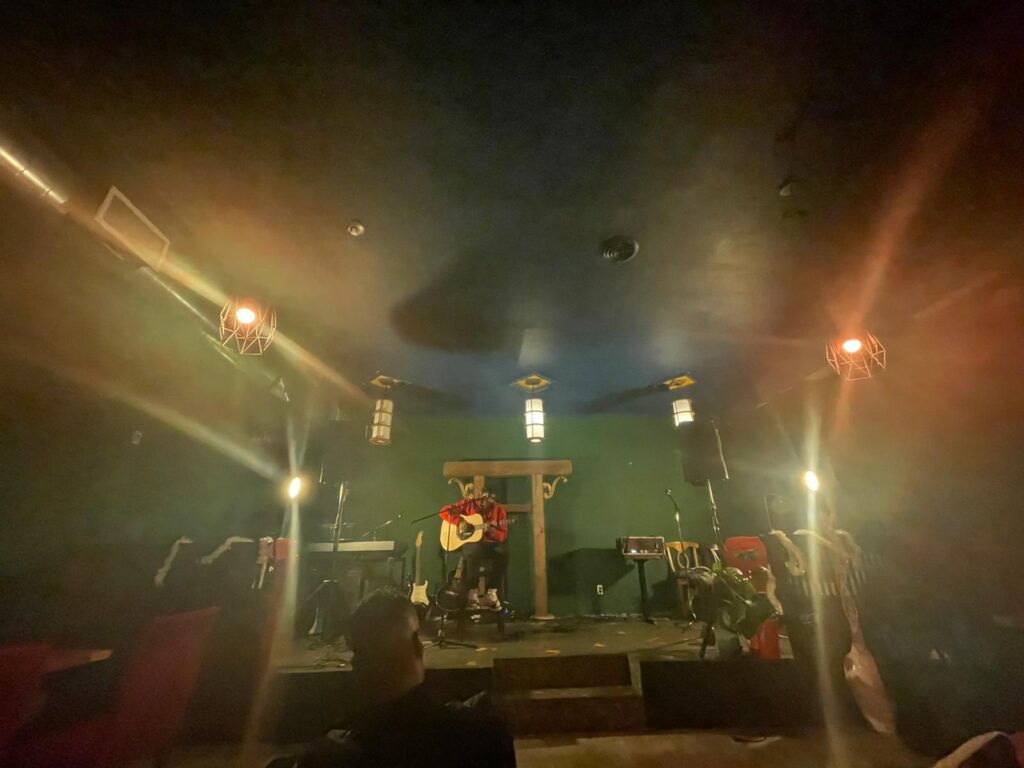 Since the rise in vaccinations, live entertainment in Kensington Market is starting up again. Ken Pham, the event organizer for TacoTaco, a production company in the community, reunites local musicians. Nov. 28th, 2021 marks the second annual Kensington's Got Talent Showcase.
The local shindig brought in multiple talented acts, with original performances from Kevin Fernando, a Spotify Radar featured artist, and acoustic singer/songwriter. As well as, vocal covers and piano stylings from Heather Ladouceur, a local up-and-coming pianist/singer.
"Everyone is trying to get out and do things, I post on Facebook meet-up groups, and we try to build a community. The musician community is really supportive, everyone is supporting and collaborating with each other," says Pham, in-person at the event.
Ken Pham, Ottawa local, hosts social events post-quarantine
Pham, a magician talent on the side, reunited the community during the summer of 2021. After the isolation of the pandemic, he "wanted to get out and meet new people."
Pham hosts open mics every Thursday and Sunday at the Film Cafe, and Tuesdays at Freetime Cafe. Pham approaches who he deems best, and sells tickets for his chosen acts at his next event.
The musicisan community is really supportive, everyone is supporting and collaborating with each other.

Ken Pham
After moving from Ottawa in the summer of '21 with only the experience of hosting single's nights. Pham mentions business has "been going strong ever since" after gaining popularity with features from BlogTo and Toronto Now.
"When I moved here, I didn't see any events going on so I decided to plan my own," says Pham.
Multimedia by Sheridan Williamson-Fraser
Kevin Fernando: Spotify Radar Featured Artist
Kevin Fernando, performing acoustic artist for six years from Chennai, India, grew as a musician during the pandemic. After utilizing the live-streaming feature on social platforms like Instagram, he built an audience, after only moving to Toronto nine months ago.
"Before the pandemic I was doing music for about two years, my audience grew with my Instagram lives" says Fernando in-person post-performance.
Fernando's rise in viewership, last Nov. earned him attention from the Spotify Radar team in Jan. 2021. With their mention of Fernando possibly being "the next big artist in the industry." He was amongst a select few of artists from India to be chosen.
He is featured in Italy, India, Canada and Mexico, with 10, 000 listeners in Canada.
Heather Ladouceur: Karaoke host and mother of two 
With performances and covers of "Dance Monkey," and new Taylor Swift releases, Ladouceur took the stage. After going back to centennial college for Art and Performing in 2017, and having two kids, the pandemic allowed her time for music practice.
"It made the transition back to live music easier, you're everything to everyone all time, it was nice to be who I've wanted to be my whole life. I am lucky people like Ken believe in the musicians, and bringing people back together safely," she adds.