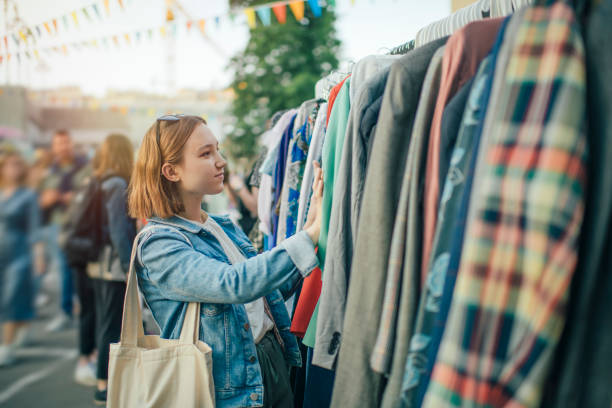 By Danielle Reid
For many small businesses in Canada, the COVID-19 pandemic had a devastating impact, some being forced to close permanently,  but for some local thrift stores that were able to adapt to the new normal, the pandemic has allowed their businesses to thrive. 
According to the Small Business Poll conducted by RBC, many of the shopping trends introduced during the pandemic are here to stay, with 4 out of 5 Canadians saying they will continue to shop online even after the economy is fully opened.
The Street Market, a GTA based travelling thrift show hosted by a team of vintage vendors started just two months before the beginning of the COVID-19 pandemic and were forced to quickly find ways to pivot their business model as the country went into lockdown.
"We started an Instagram Live series, doing shows every single day of the week during lockdown where we developed a pretty big following" said Harrison Snyder, social media lead for the Street Market.
While they were not able to hold events due to restrictions, social media played a huge role in helping The Street Market gain traction, using apps like Tiktok and Instagram to advertise and showcase new drops and hold live auctions. 
Aly Di Campo, owner of Alyway Era, a vintage store based in Montreal is also experiencing post-pandemic success, saying that her business was able to flourish due to the pandemic.
"The pandemic ended up as a positive for me…I was able to focus on my business and started a website in the summer of 2020, I really had the time to work on it." she said in a telephone interview.
The e-commerce business started at the beginning of the pandemic, a time when many businesses were failing.
"People thought it was crazy," she said
"But people being home and shopping online really helped them to give it a chance, I don't know if it would have been the same if there was no pandemic."
Di Campo said she believed the pandemic also pushed people to shop more locally, a trend that is expected to remain post-pandemic.
According to RBC, 77 per cent of Canadians say they plan to spend more at small, local retail stores, businesses and restaurants to support them more than they did before the pandemic.
COVID-19 has allowed people to get familiarized with shopping second hand online, said Di Campo
"People realize this is legit, we're sourcing, taking our time just like a real physical shop."